LJMU is the first university in Europe to acquire Spot and the 3D Laser Scanner with software as a package and plans to use its £150k investment for teaching and research.
Engineers at LJMU have gone out and bought a dog!
It's four-legged and likes a little walk but 'Spot' won't be barking or looking for cuddles because it's a robot dog designed for all terrains and ideal for construction and civil engineering surveys.
Supplied and adapted by BuildingPoint UK and Ireland (the construction arm of Liverpool based mapping and surveying equipment specialists, KOREC), the robot dog has been developed by American robotics company, Boston Dynamics, in conjunction with Trimble who are the manufacturers of Spot's 3D Laser Scanner payload. The end result is an agile, fully autonomous, four-legged robot that can be used to enter buildings which are unsafe for humans or to survey building projects as they progress.
The robot dog can either undertake fully autonomous pre-programmed missions or can even be operated remotely and controlled off-site. Both options will ensure that Spot is a perfect fit for survey requirements in hazardous conditions or for carrying out repetitive survey tasks, freeing up a skilled surveyor to work elsewhere.
Sam Hough, BuildingPoint UK and Ireland Business Manager, said:
"LJMU is really at the forefront of what is happening within the construction industry which is currently undergoing a digital revolution. Not only is Spot an important addition to construction sites from a health and safety perspective, but also a significant reminder that if the construction industry is to overcome a skills and labour shortage, then this is just the sort of technology to attract a new, motivated generation of engineering surveyors.
Spot is presently active on several construction sites following investment by major construction companies so for LJMU to already be preparing the next generation of engineers in this way will be of considerable importance for the industry as a whole."
Dr Fiona Borthwick, Interim Subject Head of Civil Engineering and Built Environment, said: "We've been excited about Spot for a very long time, so we're pleased that we now have our robot dog up and running. It's a great plus for our students that they will be familiar with this technology before they go full-time into the industry, and we look forward to further exploring Spot's capabilities and options for different payloads."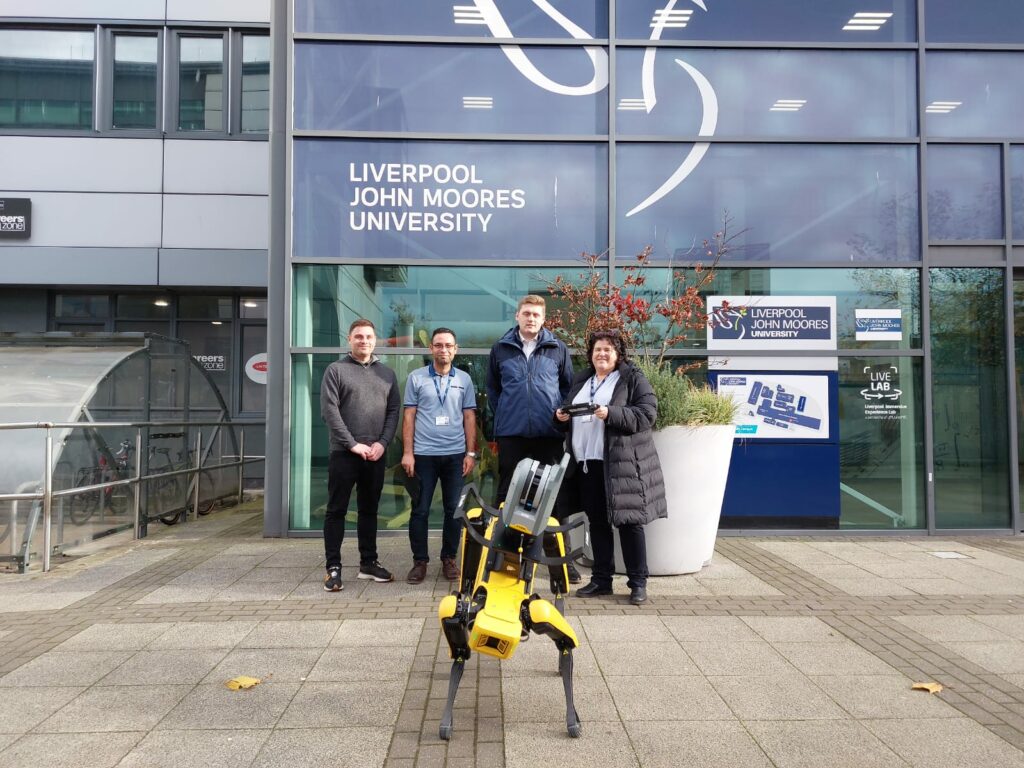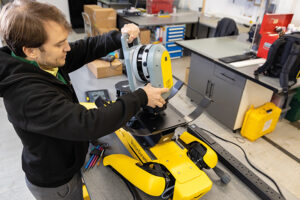 ENDS
About KOREC and BuildingPoint UK and Ireland
KOREC Group is an established Trimble Geospatial Distributor, one of the largest and most successful in the world and has been for over 25 years. The company has been active in the construction market since its inception in the 1960s.
Since 2019 the Trimble construction side of the KOREC offering has been operating as KOREC Construction. BuildingPoint UK & Ireland joined the global BuildingPoint family in September 2022. This network brings the full range of Trimble Buildings' solutions to their respective markets – solutions designed to improve your productivity, schedule adherence and cost discipline through tighter coordination, improve project transparency and collaboration. We're now part of a growing family of BuildingPoint organisations across the Americas, Europe and Asia/Pacific.
About LJMU School of Civil Engineering and Built Environment
School of Civil Engineering and Built Environment is a vibrant community that welcomes bright individuals and creative thinkers offering practical, accredited courses delivered by high-calibre academic staff. The School also has an impressive research portfolio, strong partnerships with industry leaders and first-rate facilities.
All of the School's programmes both at undergraduate and postgraduate level have exceptional employability rates. The School also has a large group of post graduate research students undertaking research projects across a wide range of subjects that are closely aligned to the research expertise of our academic staff. Additionally, the School offers a number of programmes with international partners based in Sri Lanka, Malaysia, Hong Kong, Qatar and Singapore.
These elements cement the School's reputation as an internationally recognised Civil Engineering and Built Environment School.